1 to 2 hours

$450 to $2,000

Skill Level:

Moderate

involves basic plumbing and electrical work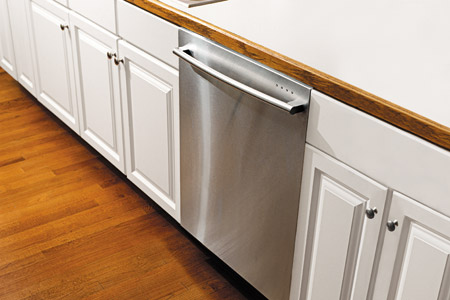 Boy, the retired couple you bought your house from left behind one incredibly energy-efficient dishwasher! Okay, maybe just efficient to them, because they didn't need to run it more than once a week and only had a full load when the grandkids came for Thanksgiving. But you—you pack that thing with pots, plates, and glasses every night, sometimes again in the morning. Its age is starting to show, especially in your electric and water bills.

Time to switch it out for a new Energy Star–qualified dishwasher, which can save you more than $30 a year on power and almost 500 gallons of water. These units have sensors that self-adjust to wash with just the right amount of water. And today's models are so good at scrubbing, you don't have to prerinse in the sink—which translates to even less of your hard-earned money and time down the drain. But the biggest cost-saver of all is that you can install one yourself in an afternoon, as This Old House technical editor Mark Powers demonstrates on the following pages. No plumber, no electrician—and no worries that you're squandering your retirement money on a load of clean dishes.