4 to 6 days for construction, plus one week for concrete to cure

$800 to $1,000 for a 10x16-foot pressure-treated deck

Skill Level:

Moderate to hard

Digging holes and pouring concrete piers is hard work, but building the frame and laying the decking is straightforward, even enjoyable.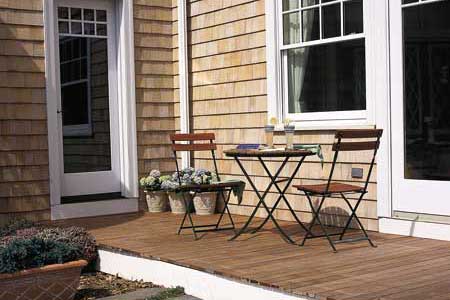 If you've always dreamed of building your own deck, but were hesitant to tackle such a large, complicated construction project, we've got some good news. We asked This Old House general contractor Tom Silva to demonstrate the proper techniques for building a small, simple on-grade deck. All you need are some basic carpentry tools and the desire to invest a little sweat equity.

The deck shown here features a pressure-treated floor frame that's supported by a ledger board and concrete piers, and topped with 5/4-inch decking. And because the deck is only a one step high, no railing was required. Now just follow Tom's tips and build your own backyard oasis. It's a great way to make your neighbors jealous.