8 to 10 hours

up to $4,000, depending on style and wood species of cabinets chosen

Skill Level:

Easy to moderate

Consists primarily of screwing together cabinets, a job that requires careful handling and patience, but no specialized skills or experience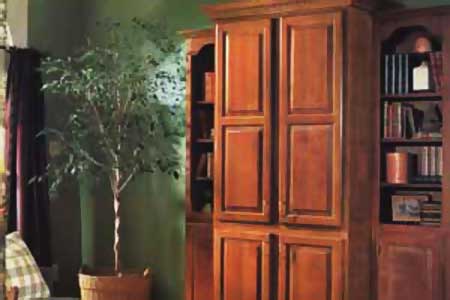 Does your living room look like a warehouse for audio/visual equipment? An entertainment center will house your television set, VCR, stereo system and gaming console in one space-saving place. These custom wall units are specifically designed for this electronic gear. They also provide storage for videotapes, compact discs, cassettes, game cartridges and even your old LPs.

On the outside, entertainment centers closely resemble other wall units. Their deep base cabinets have doors or drawers, or both, and are topped with open shelving units. The middle cabinet typically houses a TV, so it's much wider and deeper than the shelving units that flank it.

Inside, however, you'll find a variety of specialized features. For example, rollout shelves provide easy access to individual electronic components, while adjustable drawer dividers neatly store tapes and CDs. Most also feature slide-back doors that allow an unobstructed view of the TV. Here's how to build your own custom unit using stock cabinets.